It's been a little slow in here lately, and I'm mentally bored right now, so out of sheer obnoxiousness, I'd like to propose a speculation thread about the hosts of the Gun Nation (Doc, Joe, Paul, Melody, Grant, maybe Ian if he's still involved, maybe even Grant although he appears to be missing in action).  
So, what gun(s) do you think the hosts REALLY carry?
I'll start with Doc.  He clearly has a passion for wheelguns.  He also clearly has had a fling for a while with the Ruger SR9C.  At least, that's what he says...
I'm going to go out on a limb here.  I'm going to speculate that Doc's talk about wheelguns and the SR9C are merely a cover, a camouflage to conceal his true identity in case any of us might otherwise notice him at a shooting range.   And I think that camoflage is so that we won't identify him while he's firing his FAVORITE handgun of all . . . .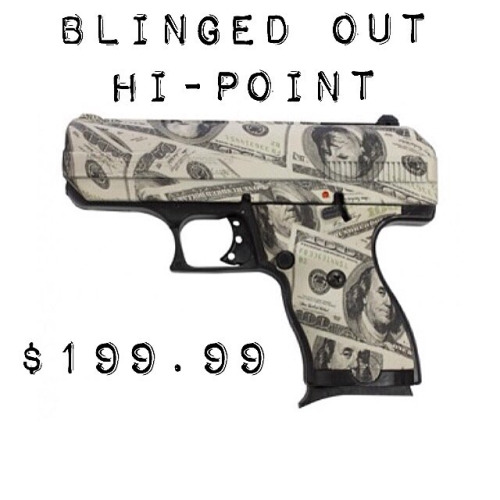 That's right.  A "Blinged Out Hi Point," because Doc is a man of taste and class, and likes all around him at the range to know that he loves him some Benjamins.
What do you think?  Join me in the speculation.
Last edited by Tennessee Jed on Fri Jun 17, 2016 3:50 pm; edited 1 time in total (Reason for editing : Edited to include Ave. Joe)